Publications
Creative Non-Fiction
My story "A Song for Kataryna" and my poem "Spring Harvest" appear in the anthology, Kobzar's Children: A Century of Untold Ukrainian Stories, edited by Marsha Forchuk Skrypuch, and published by Fitzhenry & Whiteside. Ask for it at your local bookstore or library, or you may order an autographed copy by contacting me.
News Items and Feature Stories
As a freelance writer, my current stories featuring people and events in northern Saskatchewan appear in Eagle Feather News.
For over five years, I was a regular contributor to the Saskatchewan weekly newspaper, The La Ronge Northerner, writing on a wide variety of topics, including business, industry, arts, education, sports, social issues and human interest. While living in Eastern Ontario, I initiated a feature column, "Community Showcase", which ran in the Seaway News.
My writing has also appeared in a number of other publications such as Prairies North Magazine, The Saskatoon Star-Phoenix, Opportunity North, The Prince Albert Herald, Northern Pride, Windspeaker, Saskatchewan Sage, The PAGC Tribune, The Prairie Messenger, Meest, Artemesia, Freelance, and Below the Belt, Canada's boxing magazine.
Personal Essays and Memoirs
Personal essays and memoirs have been published in Reader's Digest, The Globe and Mail, The Cornwall Standard Freeholder, The La Ronge Northerner, The Seaway News, Visnyk, Appleseed Quarterly, Nasha Doroha, Long Term Care Magazine, Family Tree Magazine,  the Saskatchewan Arts Alliance website, and the anthology, Cream Money – Stories of Prairie People.
Readings
I am available to do readings from my work and work-in-progress. More recently, I have combined readings of my publications with oral storytelling, in a program entitled "Buttons and a Blue Mirror: Stories my Baba never told me." Schools, libraries and community groups can have these events subsidized through the Saskatchewan Writers' Guild Readings Program. Check out my entry in their data base.
Professional Development
I am President of the La Ronge Wild Rice Writers' Group. As a member of the group, I have been privileged to attend workshops conducted by: Louise Halfe, Brenda Zeman, John Livingstone Clark, Candace Savage, Bill Klebeck, Brenda Baker, Gail Bowen, David Carpenter, Scott Miller, Donna Caruso, R.P. MacIntyre, Angus Ferguson, Suzanne Paschall and Lisa Bird-Wilson.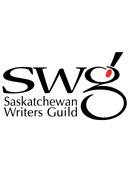 I am a proud member of the Saskatchewan Writers' Guild.