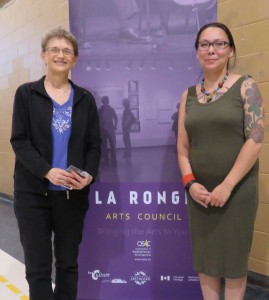 The La Ronge Arts Council held its Volunteer Recognition event this week. The vision of the Arts Council is "A Strong and Vibrant Arts Community." This has got me thinking…
For any kind of community that wants to be strong and vibrant, the contribution of volunteers will make a big difference. Every day this week, I have personally been touched by the work of volunteers with a number of local and national organizations, including:
– The lay ministers in my faith community;
– The secretary/treasurer of the Wild Rice Writers Group;
– The president of the La Ronge and Area Music Festival Association;
– Volunteers with Development and Peace;
– Organizers of the Storytellers of Canada – Conteurs du Canada Annual Conference.
– Those who came out to weed the Lac La Ronge Food Bank garden;
– And, of course, the La Ronge Arts Council volunteer board.
That's just this week.  Last week, the list would have been different, and next week it will be different again, but it does emphasize just what a team effort is involved in making a community successful.
I was humbled that the La Ronge Arts Council recognized me as their "Volunteer of the Year". The photo here shows me with the Board Chair, Harmony Johnson-Harder, but I really feel it would be more representative if all the vibrant volunteers had gathered for a team photo (like they do when they win the Stanley Cup!).
I am privileged to be a volunteer, and grateful to live in a community and country where many passionate individuals give of their own time to make this world a better place!