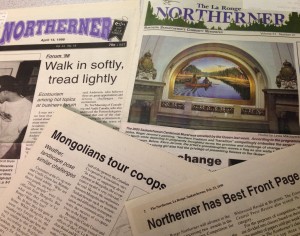 With The La Ronge Northerner ceasing publication this week, I have been reminiscing about the many local stories I had the opportunity to tell in its pages as a freelance writer. In 1997, I walked into the office of editor Scott Boyes with a proposal to write a series of articles on home-based businesses in the community. That was the beginning of dozens and dozens of stories in what was then an award-winning newspaper.
It has been interesting hearing Karen Robertson's recollections of how her father, Vern Brooks, began the paper in 1974. Past owner Gill Gracie's comments contrast the publication she put out with what it had become in recent years.
When I was freelancing for The Northerner, I covered a wide range of events including a business forum,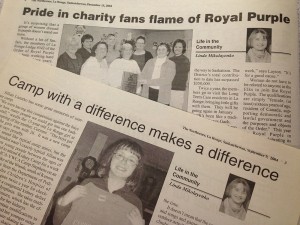 the visit of a delegation from Mongolia studying co-ops, and artistic achievements. In 2004, I also began telling local stories under the "Life in the Community" banner.
Under the editorial leadership of Scott Boyes, The Northerner won multiple Saskatchewan Weekly Newspaper Association and Canadian Community Newspaper Awards. Around the time that Scott left the paper to work with the provincial government, I left freelancing and went to work in communications with the health region. It was never quite the same after that.
The world of media is changing, of course.  I will share this blog entry on my personal Facebook page and on my public Twitter feed. The world of print journalism is not the same as it was a decade ago, but there is still value in telling a wide range of local stories in print, not just tragedies and disasters. That is why it is so nice to see that Eagle Feather News is willing to cover good news stories from the north, in print and on their website. Now that I am freelancing again, I have been contributing to this publication, and look forward to sharing more northern Saskatchewan stories with you. Here are the links to a few recent ones: