And inside were all kinds of fine clothes, enough to dress an entire village!
-The Magic Pumpkins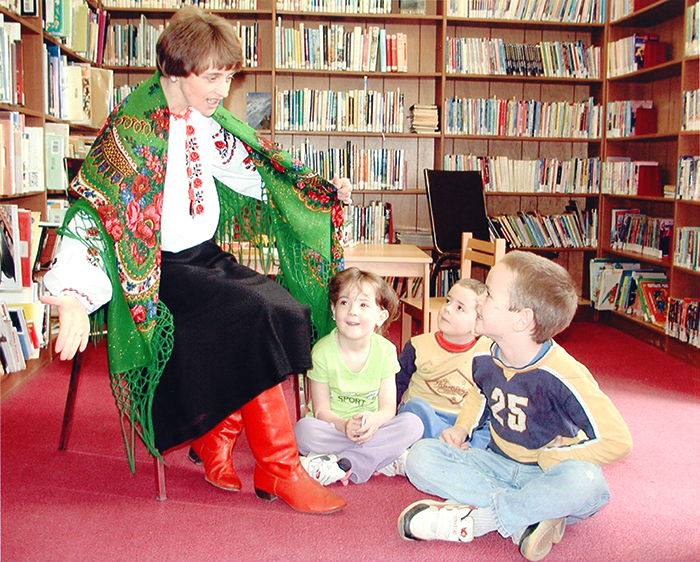 Storyteller Linda Mikolayenko at the Williamstown Library with Zoe, Zane and Zachary Bougie.
(Photo by Todd Anderson, The Glengarry News)
Why I tell stories
It's a warm Saturday morning in May at the Williamstown library.
"And what was in the third pumpkin?" I ask the group of children seated cross-legged on the floor in front of me as we review a story I told them earlier.
Seven-year-old Zachary is wide-eyed, hands trembling with anticipation. He has already told me what was in the first two pumpkins, and now, unable to contain his excitement, he exclaims, "MONEY!!"
I smile. If I ever doubted the power of the story, I don't anymore. It's as though Zachary is no longer in a heritage building in Glengarry, but the red carpet he is sitting on has become a magic carpet and transported him to a tiny hut in a far away land, where he is fingering "gold and silver coins, so many, there is no counting them." (Read More…)
---
"I'll tell you a story
About Jack a Nory
And now my story's begun.
I'll tell you another
About Jack's brother
And now my story is done."
My mother, The Rhyming Mama, enjoyed verses like this, and often created bedtime stories on the spot.
I also grew up listening to my father reciting epic poems in Ukrainian. I paid tribute to him and our storytelling connection in a CBC Radio "Outfront" broadcast entitled "My Dad, the Storyteller".
 What kind of stories I tell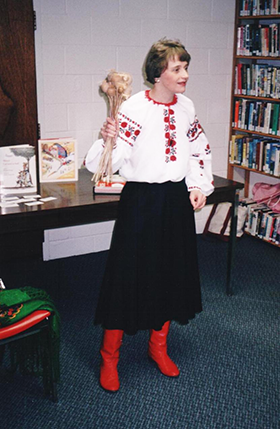 Folk tales and legends from the Ukrainian tradition are my specialty. I find there is a lot of wit and wisdom in these stories, and not many storytellers I know are sharing them with English-speaking audiences. If you know someone who is, please contact me. And if you are interested in finding out about sources for these tales, check out my resources page.
I have also been known to tell rhyming stories found in picture books, and have created a story called The Rhyming Mama which includes the verses my mother used to recite.
For special events, I draw on stories from around the world to fit a particular theme. It has been my pleasure to share a story at the La Ronge Community Christmas Concert for the past ten years. These stories have originated in countries such as England, Russia, Germany and Mexico. I'm always on the look-out for short Christmas stories suitable for a family audience.
Where I tell stories
I have performed as a storyteller at schools, libraries and festivals in Alberta, Saskatchewan, Manitoba, Ontario, Quebec, Nova Scotia and New York State. These include the Ottawa Storytelling Festival, the Toronto Festival of Storytelling, the Winnipeg International Storytelling Festival and Canada's National Ukrainian Festival, among others. In 2004, I was honoured to represent Storytellers of Canada-Conteurs du Canada in a tour of northern Alberta during Canadian Children's Book Week.
More recently, I have combined oral storytelling with readings of my publications, in a program entitled "Buttons and a Blue Mirror: Stories my Baba never told me."
In Saskatchewan, my presentations can be subsidized by the Saskatchewan Writers' Guild Readings Program. Check out my entry on their database.
Beyond the Blue Mirror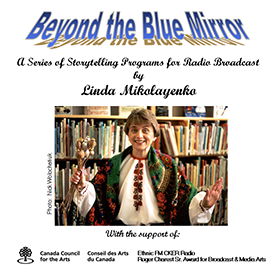 I have created three storytelling programs, available on CD, exclusively for broadcast on ethnic and community radio stations. If you host a radio program, contact me for your copy.
Stories for radio broadcast is a series of programs for radio broadcast that celebrates the rich Ukrainian oral tradition. Each program features an English telling of a traditional folk tale or legend and a related real life story, enhanced with traditional and contemporary music.
Produced with the support of:
Canada Council for the Arts and Ethnic FM CKER Radio / Roger Charest Sr. Award for Broadcast & Media Arts
Program Descriptions:
Program 1: A Rich Man's Greed 18:42
Introduction (Dance Five, Paris to Kyiv)
Folk Tale: The Stolen Postoly
Excerpt from Hutsul Fantasy, Vasyl Popadiuk
Real Life Story: Spring Harvest: recollections of Mike Mikolayenko
Kraina Kazky, Duet Maryna
Credits
Program 2: A Brother in Need 18:04
Introduction (Dance Five, Paris to Kyiv)
Folk Tale: The Magic Pumpkins
De zhoda v rodynee, Canada's National Ukrainian Festival Choir
Real Life Story: An Unexpected Meeting: recollections of Ostap Gellner
Family Harmony, Jeffrey Stephaniuk and Willie Hunchak
Credits
Program 3: For Eternity 18:24
Introduction (Dance Five, Paris to Kyiv)
Legend: The Eternal Bride
Oy u vyshnevomu sadochku, Lastiwka Choir and Orchestra
Real Life Story: Michalina by Linda Mikolayenko
Joy of all Sorrow, Oleksa Lozowchuk
Credits
Workshops / Presentations
I was invited to present a paper, Rewind and Press Play: Nourishing the Spirit through Aging and Loss, at the University College of Cape Breton Storytelling Symposium in 2001. An excerpt was printed in Appleseed Quarterly, The Globe and Mail and Visnyk.
I have conducted Storytelling Workshops and would be pleased to design one to meet the needs of your group.
Bookings
I would be delighted to present a storytelling performance at your school, library, festival or other special occasion. The program can be tailored for the event and the audience. I have experience in telling stories to all ages. Or if you would like a workshop on the art of storytelling, or a keynote address on the power of stories, please contact me.
Resources
For those of you who are interested in Ukrainian folk tale and legend storytelling resources, click here.
Pysanky
My husband, Doug Bagwell, uses the traditional art of writing pysanky (Ukrainian Easter Eggs) to tell stories in a unique way.  Click here to see some of his creations.


I am a proud member of Storytellers of Canada/Conteurs du Canada.